One great way you can use video now to instantly connect with your ideal client
Today we'll dive a little into the world of videos. Specifically video intros. You know the ones – those short 3-5 second video or animated video "segments" you see on some videos. Usually animation of logos or a few words, photos or actual video…
We'll take a look at what elements you can include in them, what you'd use it for and why as well as what makes a good video intro. We'll also look at how they help with your brand image.
Video intros can be made using a variety of different media elements and mediums. Animation, video shot from a camera, photos, music, voice overs, sound effects, stock footage, pencil drawings…you name it. It's definitely an area we get to be creative in. The best video intro for your business is going to be as unique as you are. If that means your business is best represented by mud, you can be sure you'll need to include that!
A video intro is one subtle way you can introduce people to your brand. The elements you include your video intro can be used to symbolise or represent what you and your business stand for. It also gives you the perfect opportunity to show people how they will feel when working with your brand. Let's take a look at an example of a lifestyle coach. Images or video clips that show or give off a sense of fulfilment and happiness (the end result of working with you) is exactly what you'd want to include. All you'd need would be something simple like a light animation of a butterfly with a quick glint and sparkle and it will give you a light, happy feel. By doing this, your brand will become synonymous with those feelings. Video intros are definitely a great way to let you and your business personality shine too!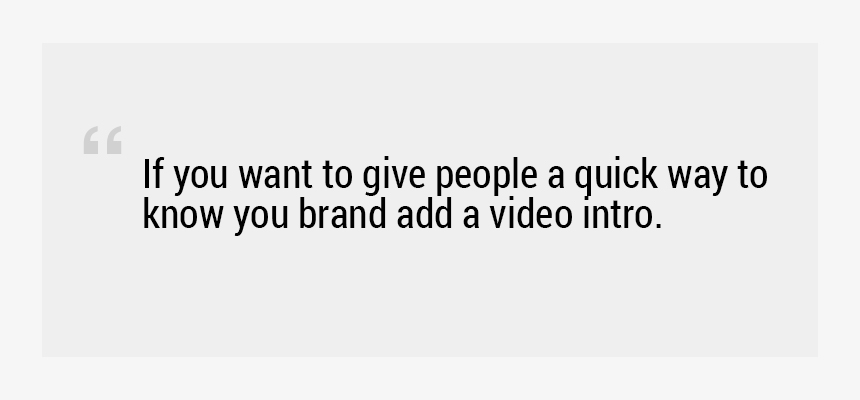 One of the great advantages of using videos intros is instant brand recognition. As you continuously use the intro in your videos, people begin to know you by your intro. This enables videos to be easily identified as one of yours.
As an added bonus, video intros are great for creating a connection with your brand. When you use these intros to make a statement about who and what you are and believe in and what you stand for, people who also identify with these things will be instantly attracted to you and your message. It lets people know they are in the right place.
Where can you put a video intro? Just about anywhere! Add them to your sales videos, course module videos or conference videos if you are a speaker. You can even add them to your launch videos, explainer videos, video blog posts and podcasts – practically any video you use in your business.
Time to look at some examples. First up – Marie Forleo's video intro.
Marie's video uses pink/purple with her name which we can all agree her is a colour typically used for the feminine market. Marie's market is predominately women so she's definitely identifying with them here. The use of the handwriting font is also used to do this. The quick flip through photos shows you exactly what she's all about. It also shows her brilliant personality. Just from this you're able to tell exactly who she is, what she stands for and who her tribe is.
Next up is something entirely different. A sports brand.
This one's clearly for sport. It has that typical masculine machine-like dark colours feel. The inclusion of elements like surface texture of a ball and the headlight appearance of the lettering of ESPN all represent the brand and what it stands for.
And now for a creative brand:
The creative, unique nature of this video is showing a brand that's unconventional, that wants to stand out and different yet connected. Everything you'd get from working with a company like offset.
And now for something different again.
I really like the creativity on this video intro. The trademark camera click and fashion shoot feel lets you know exactly what they do and who they do it for.
Liked this blog post? If you'd like to get blog posts like this in your inbox plus some email only articles, subscribe to this blog.